"B" Bold, "B" Beautiful, "B" Strong, "B" Brave, "B" Different — these are the words you first see when you go to the website of BFFS, the only fitness studio in the Muskegon area to offer Xtreme Hip Hop and Xtreme Burn.
Cecil McCarty, owner of the studio, represents each of these descriptions. Just like the studio's motto, she inspires, motivates, and encourages women who visit BFFS (which stands for Becoming Fierce Fit Sexy) on their fitness journeys.
McCarty, a Muskegon resident, says that the idea of BFFS came during the COVID-19 pandemic when she became interested in becoming a fitness instructor. An office manager for more than 14 years for a local counseling agency, McCarty pursued certification, for which her studies took place virtually due to the pandemic. 
The process consisted of utilizing Zoom to learn and perform routines, which was rigorous considering she repeatedly performed routines per each instructor's requirements while also pursuing certification.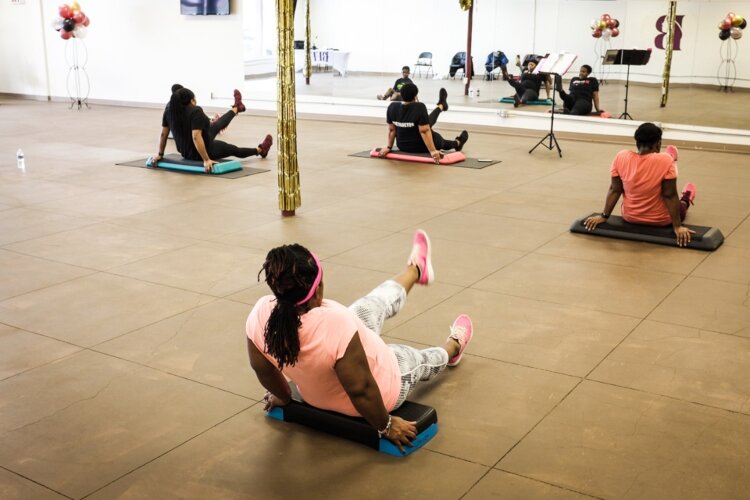 BFFS is the only workout center in the Muskegon area to offer Xtreme Hip Hop and Xtreme Burn classes.
Workouts in the park, finding her space
By early June 2021, McCarty was certified in Xtreme Hip Hop and Xtreme Burn. She began holding workout sessions outside at Muskegon's Heritage Landing Park, which were quite popular, but once the seasons changed and it became colder, McCarty wanted to find a consistent space. 
She began utilizing rental space at the Mahali Event Center in Muskegon Heights and was surprised when the popularity and demand to attend her classes grew to the point where she needed more room.
McCarty decided it was time to create her own space, one that catered to women. She was concerned about the intimidation women can experience at larger fitness centers and gyms, including being self-conscious around the men who work out and the unfamiliar workout equipment. 
She found that space at 3140 Heights Ravenna Road in Muskegon and, on May 1, 2021, BFFS had its grand opening.
"I just wanted to create a safe space. There's no intimidation here cause we're all working toward the same goal. We welcome all fitness levels, all body types; not everybody looks the same," says McCarty, pointing out the diversity in shapes, sizes, and ethnicities among her clients.
Passionate about potential
McCarty, the mother of two sons, is passionate about empowering and reassuring young girls and teenagers in reaching their full potential, encouraging growth, confidence, kindness, and intelligence. 
"I researched and found that little girls with self- and body-image issues look for acceptance where they don't need to," says McCarty. "Older women have these issues, too, so this is what BFFS is about."
McCarty speaks from experience as she, too, dealt with anxiety and depression. "When COVID hit, and we all got locked down, I was already battling it and it was affecting my weight," she explains. That was when her focus turned to exercise, which she did with Youtube videos. McCarty says the regimen started off about losing weight, but she noticed the exercise made her feel better and helped with her anxiety.
McCarty lost 65 pounds in less than a year, which she attributes to the combination of exercise and changing her eating habits, including monitoring carbohydrates. She concedes she still struggles, like any other normal person, adding that she was never an exercise or fitness junkie or guru.
Finding what's fun
Finding what worked best for her kept fitness fun, McCarty says. For instance, she isn't a big fan of the treadmill, but exercising with music, like with Xtreme Hip Hop, and working out with the other ladies keeps her motivated and holds her accountable. 
At BFFS, McCarty encourages the women who come to her classes to have fun by finding what works for them so they can stick with their fitness goals.
Along with exercise, other saving graces for her during her struggles were counseling and writing poetry. An advocate of therapy after having worked in the environment for years, McCarty understands the hesitancy, especially in the Black community, where it can be considered taboo. 
She considers counseling an area where you need a specialist, just as you would seek out a trained mechanic to fix your vehicle or an optometrist to look after your eyes. "Do the same for therapy," she declares.
Affirmation for sharing poetry
With poetry and the spoken word, McCarty started listening to it and then writing it more than seven years ago. "I just liked listening to it because you could tell a story, and how they put the emotion in their voices — I was just captivated."
McCarty finally started jotting down her thoughts. Journaling and writing also helped her keep at bay the anxiety and panic attacks she's experienced. Once she shared her writing with her friends, McCarty received the affirmation she needed to share it with others. She made her debut at a local Muskegon event in 2021.
Sharing something so intimate with others, McCarty adds, causes her to be anxious, though she has no fear when it comes to openly communicating with others as an office manager or teaching her fitness classes. 
McCarty's poems can be found in her self-published book, "Turning Pain into Poetry," a project she says took years. She always thought she would become an urban fiction writer but decided to publish her poetry after looking through her writings and seeing how they all fit together.
Sharing the spotlight
Her book, along with products such as T-shirts, and cups, are available at the BFFS studio and on her website. As an entrepreneur who stresses opening a fitness studio was not planned, McCarty allows others to be in the spotlight by inviting entrepreneurs and vendors to use the space during class times to promote their products as well.
McCarty also welcomes instructors, even those from outside of Muskegon, to come to the studio to promote and lead classes. The studio space is also available to rent for intimate-sized events.
In addition to Xtreme Hip Hop and Xtreme Burn, the BFFS Studio currently offers Zumba, yoga, Xtreme Stepping, and ballroom dancing. McCarty wants to expand the space to include multiple rooms for several classes at a time, along with a setup for ballet classes, recitals, and other activities that often are not offered in smaller urban communities.
McCarty wants what she represents to be current so area youth can be inspired. "I'm curvier but I'm still an instructor," she says, adding that she wants them to say, "If she can do it, I can do it."
Visit thebffstudio.com to learn about BFFS, memberships, individual class options, discounts, and monthly class schedules.