J.D. Crooks, a patient, said he originally learned about Open Door Health from his friend Richie DeFilippo, an activist in the local LGBTQ+ community whose face is included on the mural that adorns the clinic's outside wall. Crooks started regularly visiting for COVID-related services, but has since expanded his involvement by serving on the clinic's community advisory board.
"If you need something — anything — they're here for you," Crooks said.
As he saw more community members grappling with pandemic-related job loss, Crooks began referring people without a primary care physician or health insurance to Open Door Health, noting that the clinic "finds a way to make it work."
"We do need the clinic to be sustainable, but we don't focus on money," Chan said. "If a person owes us $20, we're not going to turn them away. We're going to do what we can to help them."
That's a sentiment ingrained in Nunn, whose research background is in global health. Resources — including doctors — are often limited in those settings, so many things are led by nurses or community health workers. The model not only empowers non-physician health care workers to do more, Nunn said, but it creates an informed and prepared community that's able to deliver care more efficiently. For example, a nurse-led STI screening process at Open Door Health adopts standing orders — written protocols that authorize certain health providers, like nurses and medical assistants, to complete certain clinical tasks without having to first obtain a physician order.
By using this model, the clinic has been able to keep costs low and dramatically scale up STI screening — a crucial need, as the positivity rate for STI services at Open Door Health is 25%, five times the national average.
Clinical Nurse Manager Leigh Hubbard oversees the STI screening program and said that within nine months of offering walk-in testing services, they've tested, treated and educated more than 1,000 people, preventing further community spread of infections.
During one screening encounter, Hubbard said she spoke with a patient who was at high risk for contracting HIV about taking PrEP. He was hesitant because he was uninsured, and out-of-pocket PrEP can cost $1,000 per month. Hubbard worked with a patient advocacy program to get his medication costs covered and provided him with information about the health insurance exchange; when the patient returned for a follow-up appointment, he had obtained coverage and had his first physical in five years. Since then, he's continued to return to the clinic for vaccinations, screenings and continued PrEP therapy.
"This is what's possible when you open doors for people, when you're real with them, educate them and help them overcome their fears and any barriers that are keeping them from getting care," Hubbard said. "And it all started with an STI test."
Whether it's how to implement health promotion programs to scale or how to most efficiently reduce infection rates among vulnerable populations, Nunn and Chan have spent decades studying pressing health issues in their scholarship and have, in turn, applied lessons learned from their studies to actual clinical practice. It's a perfect illustration of the impact that research can have on community health.  
"What we do at Open Door Health is public health in action. It's policy in action. It's our research delivered," Chan said, "how it's meant to be."
A true impact on patients in Rhode Island
Study after study has shown that LGBTQ+ individuals often face barriers to accessing critical health services, and as a result can experience worse health outcomes. Stigma, judgement and discrimination impact the quality of care an LGBTQ+ patient receives — that is, if they aren't outright denied care because of their sexual orientation or gender identity.
Unfortunately, that's something Crooks has witnessed many times.
"I've had friends whose doctors wouldn't prescribe them PrEP," Crooks said, "because they either didn't know about it, or they didn't agree with it. And that's not a doctor's place, to decide that you don't get to be on PrEP because they don't agree with your lifestyle. Open Door Health is not like that at all."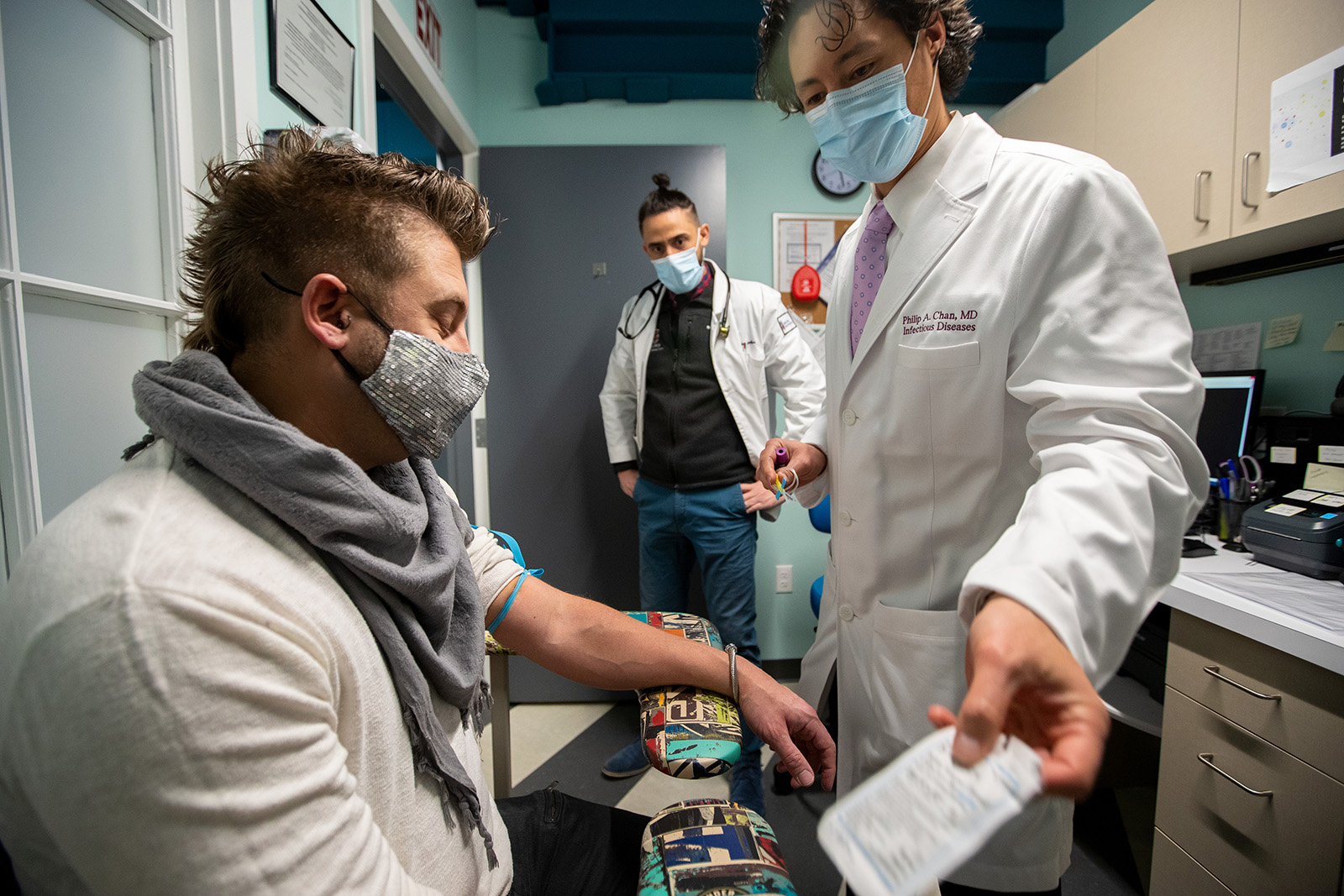 To address some of the health concerns that can arise from poor treatment — like mental health issues or substance abuse — the team at Open Door Health will never pass judgement on or withhold treatment from a patient for making decisions that they deem right for their own bodies, said Mary Beth Dromgoole, a nurse practitioner at the clinic who specializes in gender-affirming care.
Recognizing that gender-affirming care may look different for everyone, the clinic provides services that range from medical affirmation with hormones and referrals to surgical services to social support and obtaining new, revised legal documents like birth certificates and driver's licenses.
"There's such vulnerability involved in these visits," Dromgoole said. "Patients are often disclosing thoughts or feelings or truths that they have never spoken aloud before."
Approaching those visits with warmth, knowledge and intentionality creates a clinical environment that aims to be truly inclusive — something that was sorely missing from the LGBTQ+ community in Rhode Island, patients and providers say. While Dromgoole expected to hear members of the community expressing that need, she said she was surprised to find that "all patients — even some of our patients of tremendous socioeconomic privilege — describe a sense that they are being 'heard' or 'seen' for the first time."
For Crooks, that's exactly why it's so crucial that options like Open Door Health exist within all communities. Without that visibility and representation, he said, it's difficult to know where to go or what to do when health questions arise.
"It's much more inclusive now, but growing up, I never saw doctors talking to their patients about gender-affirming care or sexual encounters with people of the same sex or PrEP," he said. "There can be an element of guilt or shame, or feeling like you're in the wrong because you're not seeing yourself represented. But you're not. You still deserve care."